1154: Ken-Do #12: K-8 And Beyond!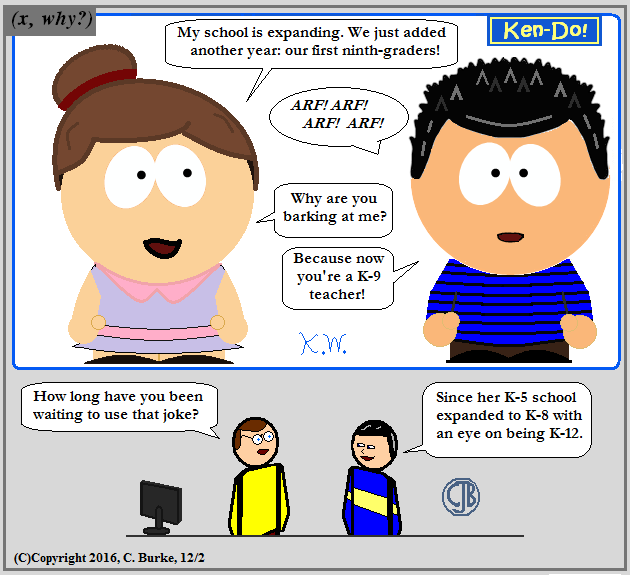 Click Me
for a random comic




There's a Doctor Who reference in there, too. Or just sci-fi, in general.

There is a trend in some smaller schools that are housed in bigger buildings to grow into the space so the kids don't have to leave if they don't wish to. If there are multiple schools in a building, one might outgrow their space and move to a new facility while the remaining one may expand. So a K-5 school may add a grade per year until it gets to K-8. Becoming a K-12 school is a bigger decision entirely, so that may take a few years to happen.

I'd given Ken-Do a rest, mostly because I still have to go back and re-do all the old ones. While it's fine to create images in this style, I shouldn't be using random character generators from the internet. I'll probably edit them over the Christmas break.

Please visit my blog: http://mrburkemath.blogspot.com.
(You can also go there to leave comments!)



Click Me
for a random comic
NOV
Dec 2016
JAN
27
28
29
30
1
2
3
4
5
6
7
8
9
10
11
12
13
14
15
16
17
18
19
20
21
22
23
24
25
26
27
28
29
30
31
1
2
3
4
5
6
7





(x, why?) is hosted on ComicGenesis, a free webhosting and site automation service for webcomics.